Paris design week 2023 :
Eva Prémillieu & SCF at the heart of textile design
For the 2nd year running, SCF is taking part in Paris Design Week 2023.
SCF is supporting the artistic project "Entrelacs" by visual artist Eva Prémillieu, and will once again be present at Paris Design Week 2023. The Café Mulot – Maison Victor Hugo will be welcoming us to a unique and surprising venue, set in lush greenery. In the heart of Paris, on Place de Vosges, the café and its courtyard are an extension of the Victor Hugo Museum.

At Paris Design Week 2022, we collaborated on the creation of BRIDE, the light designed by French designer Thibaud Klepper and published by www.made-by-bobine.fr.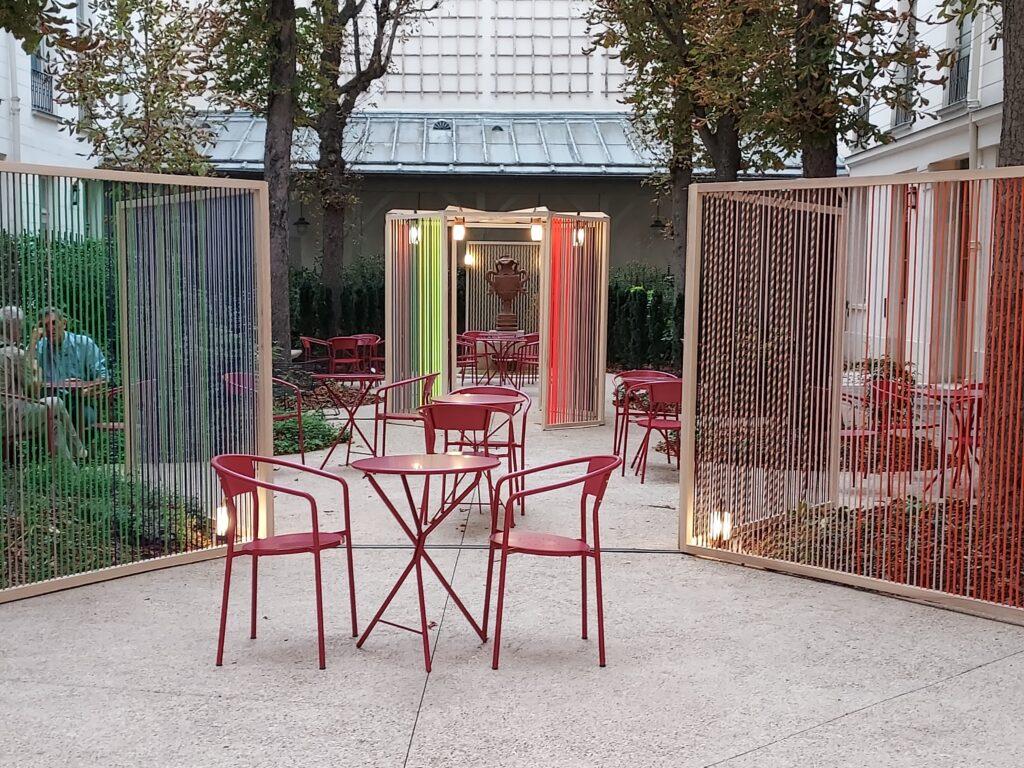 Paris Design Week, design takes over the capital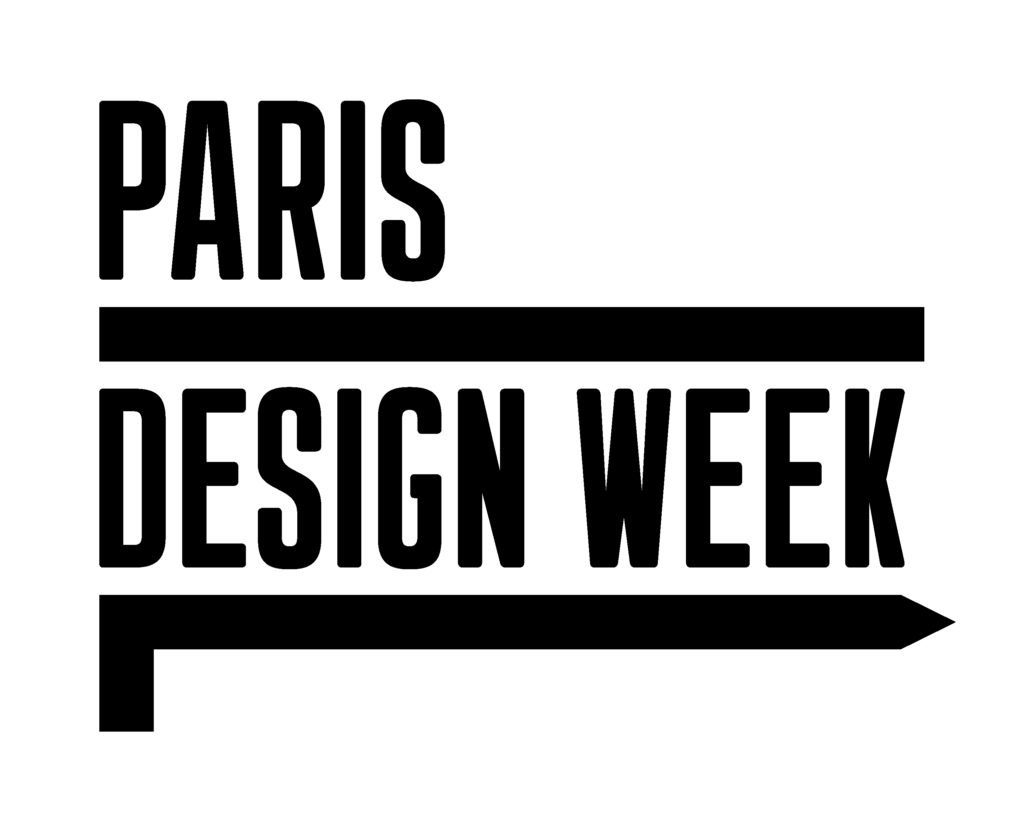 From 7 to 16 September 2023, Paris will be celebrating design in all its forms at Paris Design Week.
This not-to-be-missed event highlights the diversity of design, bringing together schools, young talent, art and design galleries, interior designers, established designers, publishers, museums and institutions at the heart of creation.
With almost 450 designers taking part in 350 different venues, the French capital is pulling out all the stops for this 13th edition to shine a spotlight on all A multi-faceted discipline, Paris Design Week offers nine itineraries to suit everyone's preferences. Whether you're passionate about art, craftsmanship, the environment or gastronomy, this week dedicated to design has something for everyone.
Paris Design Week 2023 will be all about textile art with Eva Prémillieu
"Entrelacs" by Eva Prémillieu
After "Mémoire et Rythme", Eva Prémillieu will be presenting "Entrelacs" at Paris Design Week 2023. A series of paintings in which braid leaves its original functions to become an art material.
"The Place des Vosges embodies the royal square that pioneered programmed architecture. I want to create a resonance with the building; the rhythm of the lines of the arches, windows, pilasters, bays and other architectural elements. Also the geometric shapes and colours of the materials, such as the red brickwork, the limestone, the blue slates on the roof and the transparency of the window panes", says Eva Prémillieu.
In residence at SCF for several months, visual artist Eva Prémillieu has worked and imagined her works by creating braids on our 1830 wooden braiding looms. Using geometric and chromatic constructions, Eva creates paintings in which the thread is king. Her paintings combine the memory of gesture with modernity, creating gaps and points of convergence.
Exhibition opening: 9 September 2023 – Free admission – 6.30 pm – 10.30 p
The "Memory and Rhythm" exhibition can be seen until 1 October 2023 at the Musée des Braids et des Lacets in St Chamont.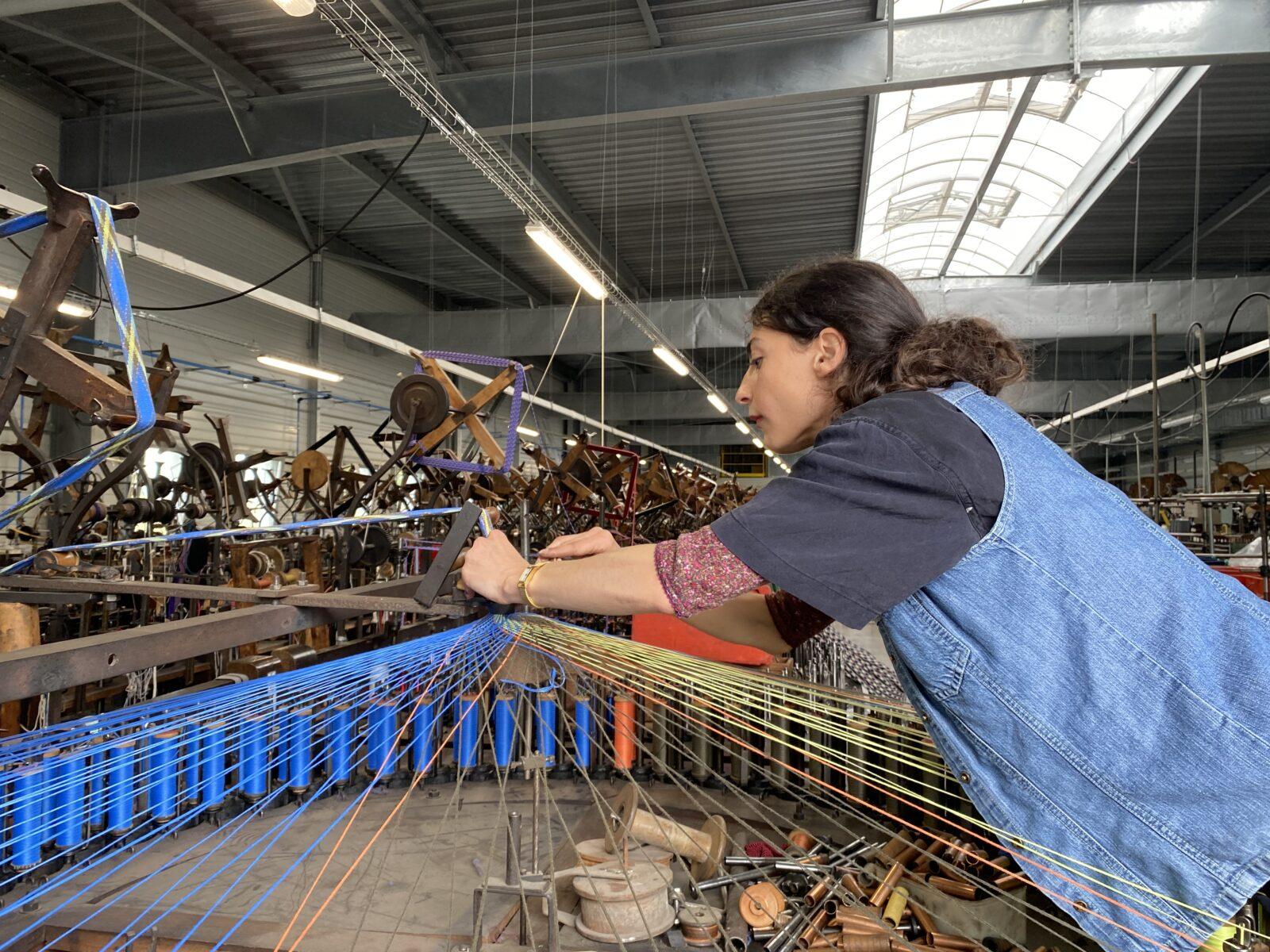 Tabcord, MBB's iconic stool for Paris Design Week
Tabcord, the iconic wooden and rope stool by Made by bobine and designed by Sophie Dalla Rosa, is evolving
in extravagant formats for this new edition! MBB, in collaboration with Sophie Dalla Rosa and Eva Prémillieu, is bringing out Tabcord in new forms. Adapting to the configuration of the Café-Mulot, it becomes a snake as well as a circle. The cords are woven in a range of colours that echo the works in the exhibition, while retaining a generous, comfortable seat.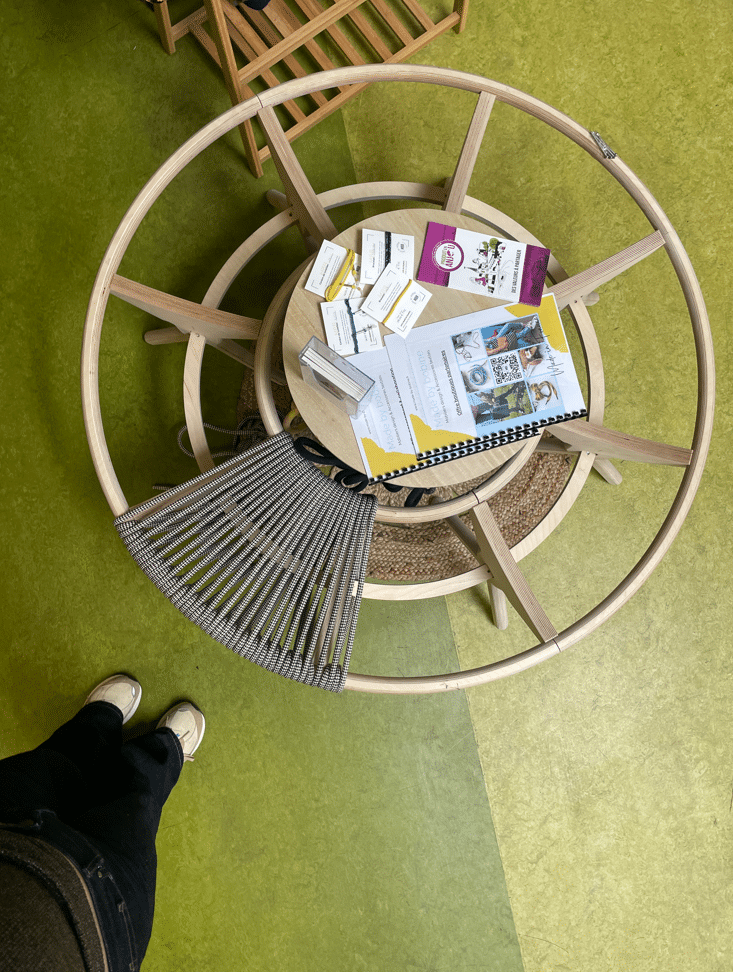 Les Off by SCF, an introductory course in braiding
Paris Design Week, Eva Prémillieu and SCF invite you to discover braiding through a series of creative workshops. Just a stone's throw from the Place des Vosges, in unusual locations, let yourself be carried away by the thread of braid.
Paris Design Week 2023 programme, le Off
Make yourself comfortable at Les petits Pots d'Alice and try your hand at Kumihimo, the Japanese marudai weaving technique.
Les Petits Pots d'Alice : 3, rue st Gilles – Marais – Paris 3ème
Booking : ici
The Atelier de tressage, SCF showroom and haberdashery, welcomes you for an introduction to braiding on its 1830 wooden braiding looms. At the end of your workshop, you'll leave with a bracelet made by your own hands!
Atelier de tressage : 3, rue st Gilles – Marais – Paris 3ème
Booking : Ici
For refreshments and snacks, head to Notre Café, in the gardens of the Caserne des Minimes.
Notre Café : 11 allée Arnaud Beltrame – Marais – Paris 3ème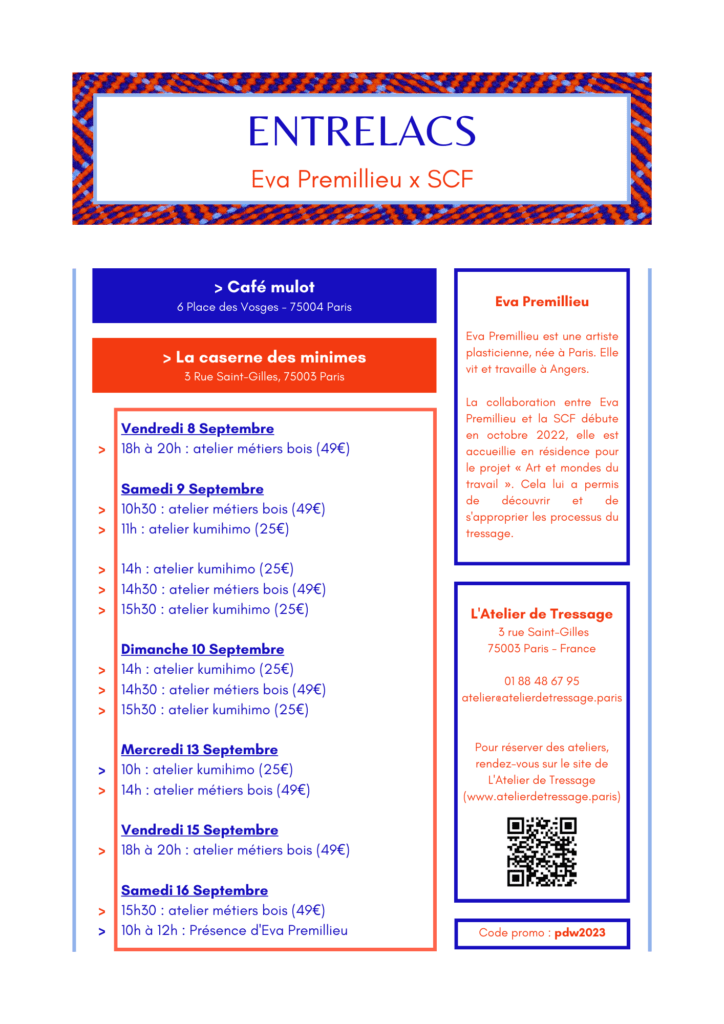 A vos agenda !
Afterwork : 7 septembre à Notre Café Marais
Vernissage : 9 septembre au Café Mulot – Entrée gratuite
Exposition : 7 – 16 septembre au Café Mulot – Maison Victor Hugo