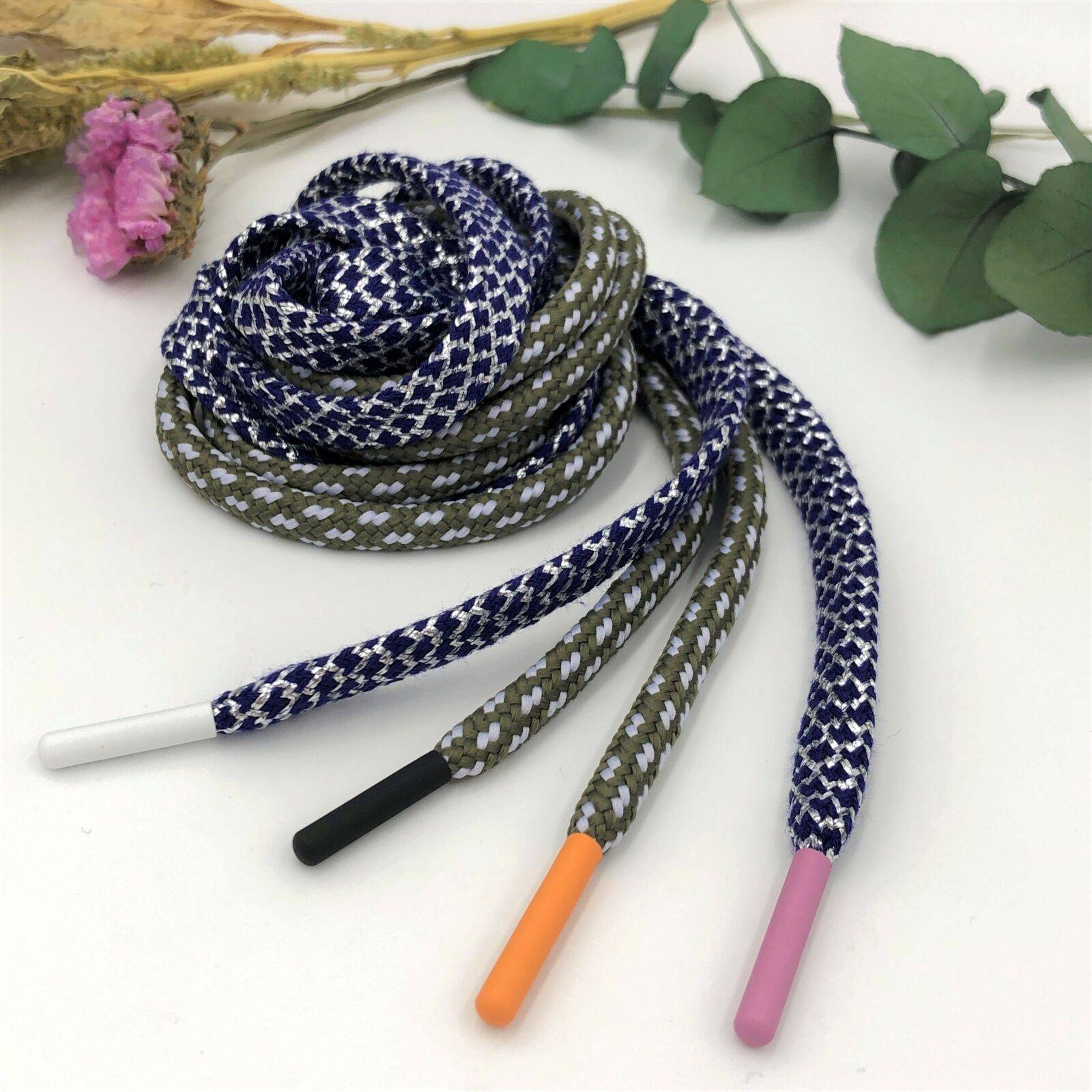 our products:
cords, laces, ribbons, straps, elastics, piping, etc.
---
Société Choletaise de Fabrication (SCF) puts all its know-how and expertise at the service of its customers, offering made-to-measure or stock products. Our products are designed and manufactured in France, in the Maine-et-Loire region, and are suitable for a wide range of uses, from fashion to technical applications. Our products: cords, laces, ribbons, straps, braids, elastics, piping, lace and more, are manufactured according to your choice of colors and with no minimum quantity.
A made-to-measure solution, with no minimum order and short delivery times!

What materials are available?
SCF braids, knits and weaves around thirty materials. SCF products are made from cotton, polyester, viscose, lurex, polyester fibre, polypropylene, linen, wool and other materials, as well as eco-friendly materials! The eco-responsible materials are organic cotton, recycled polyester, linen, French wool, etc. There are 2.500 colors in the catalogue and we are developing new ones at the request of our customers.
Cords, ropes and shoelaces
Fashion cords, ropes and laces
SCF offers braided, woven and knitted cords, ropes and laces for fashion and sports footwear, ready-to-wear, jewellery and packaging.
Available in several versions: plain or fancy, round or flat, cotton products can also be waxed for a lustrous effect, or glazed for a leather look.
Technical ropes and laces
SCF also manufactures technical ropes for climbing, ropes for Personal Protective Equipment (PPE) and other sporting goods; technical laces for safety and sports footwear; and 'textile cables' for running shoes in particular.
Materials
The choice of material depends on the end use of the product.
For fashion, our customers regularly opt for cotton, polyester or materials with an eco-responsible label.
For technical applications: the preferred materials are polyamide, polypropylene, high tenacity polyester, aramid and others for ropes, cords and laces.
Technical treatments can also be applied (fireproofing, hydrophobing, etc.).
BRAIDS, RIBBONS AND BOOTSTRAPS
SCF offers made-to-measure galloons and ribbons in twill, satin, chevron, jacquard, grosgrain, Milanese, patterned flat braid or simply plain.
These products are available made-to-measure or from stock.
How to use ribbons?
Ribbons can be woven or braided into braids as cuffs for sleeves or trousers, as edgings or ties, on the bias, on the edge of ballerina-type shoes, or to line the edges of mattresses. SCF also weaves boot-straps braids for shoes.
Customised braids and galloons
Galloons, braids, flat braids, ribbons and boot-straps can be personalised by
Width: from a few millimetres to 60 millimetres. For jacquards, we manufacture up to 50 millimetres.
The pattern or weave, with many possible jacquard alternatives.
Choice of material(s) and colour(s).
Screen printing, sublimation or silicone coating.
Straps and webbing
Webbing and technical straps
A strap is a thick fabric, thicker than a gallon or a ribbon.
How to use webbing?
Webbing is often used in fashion and technical industries.
In fashion and leather goods industries, straps are used as handles for bags or belts, and are made from cotton, polyester fibre, viscose or linen.
In sport, straps are used as ski boot pullers, for high altitude sports such as accrobranche, for climbing harnesses and many other uses.
In carpentry, straps can be used as carrying handles and handling solutions. They are also used in the manufacture of safety harnesses.
More surprisingly, SCF supplies webbing for hot-air balloons.
Customised webbing and strap
SCF weaves straps in small and large quantities.
They can be customised with :
Width: up to 55 millimetres.
The pattern or weave, with many possible jacquard alternatives.
Choice of material(s) and colour(s).
Screen printing, sublimation or silicone coating.
Elastics
Woven and braided elastic ribbons and elastic lace ribbons
SCF elastics are braided or woven into cordons, flat braids, straps, braids or laces.
The diversity of SCF elastics
SCF braids round, flat or lace elastic textiles.
Elastics braided on high-speed looms and wood looms can be more or less rigid, depending on the desired effect.
Depending on whether it is braided on a high-speed loom or on a wooden loom, the elastic will have a different hold and a different mesh. The choice of manufacturing technique will depend on the choice of product.
Elastic cordons can be made from polyester, viscose, cotton, organic cotton, linen or lurex.
Elastic laces can be made in several widths, in polyamide or cotton.
SCF weaves elastic braids and elastic webbings with Jacquard weaves.
How to use elastics
Elastic tapes and cordons by SCF are ideal for clothing (fashion, sports, technical), footwear (elastic laces), packaging, lingerie, protective masks, etc.
Stop cordons can also be used as a finish for elastics.
Lace ribbons
SCF offers a wide range of laces and entre-deux for household linen, packaging and decoration.
Banded lace is a real fashion accessory, and can be used for lingerie, the edges of dresses and jackets, or on hats for Haute Couture, ready-to-wear and ready-to-wear clothing.
Fine, openwork or solid, very fine or thick-grained, coloured or natural, ribbon lace decorates bed linen, curtains, cushion covers, etc. with finesse.
Customisable laces by SCF can be fitted with two sewing feet (entre deux) or one sewing foot (lace).
Lace widths range from a few millimetres to several dozen centimetres.
SCF has a stock offer on lace and lace entre-deux. For more information, please contact the sales department at commercial@scfl.fr.
Piping and fringes
Woven or braided piping on slow-revolution wooden looms decorates household linen and furnishing accessories, and dresses up seams or the pockets of textile creations.
SCF offers a wide range of coloured or plain piping, in different widths to be made to measure.
The piping can be embellished with a round or half-round bead, a scallop, a braid or, for even more originality, a lace (1 foot seam) or a fringe.
A fringe is a braid made up of a foot of stitching from which threads hang.
Rare products
Braiding on wooden looms
SCF makes rare and exceptional products on slow-revolution wooden looms dating from 1830-1900.
These products are what SCF is famous for: picot braid, herringbone braid, ribbed braid, stranded braid, taquet, soutache, princess braid, festoon braid, cordelière, square braid, single or double curly braid, Algerian braid, flat Milanese braid, 3- or 4-band braid, serpentine… as well as cords whose grain (mesh) and patterns offer a multitude of possibilities.
Each braiding machine has its own speciality!
In eco-responsible or conventional materials, these exceptional products can be modified in terms of colors, dimensions and materials.
Embroiderer
Products such as soutaches, princesses or flat braids can also be embroidered by embroiderers to enrich and enhance a textile surface or a lace created on a Leavers loom. So soutaches, princesses, flat braids, viscose, cotton and organic cotton cords are embroidered by hand or using Cornely embroidery machines.
Customisations
Screen printing, sublimation and jacquard
SCF offers a range of textile printing techniques for affixing logos, motifs and writing to cordons, braids and fine straps:
Screen printing for monochrome printing
Sublimation for an infinite choice of colors
Jacquard can be used to personalise a weave. This personalisation is solid and has a pixelated appearance.
To help you create your screen prints, sublimations and jacquards and to obtain the technical presentation catalogue please contact the sales department at commercial@scfl.fr.
FINISHINGS
Glazed and waxed finish on laces, cords and cordons
Glazing and waxing cords and laces are techniques mastered by SCF.
Glazing is a paraffin-based finish that gives a leathery look to the product to which it is applied. Glazed cords are used in jewellery, as laces, to accessorise dry-clean jackets and for embroidery, particularly in leather goods.
Waxing gives a glossy finish to laces.
Waxing and especially glazing reinforce the strength of a lace in abrasion breakage tests.
Aglets and Endings
SCF offers made-to-measure end caps and is able to fit multiple types of aglets.
SCF fits coloured cellulose acetate plastic tips, heat-shrink sleeves, hardened silicone tips, ABS, vinyl or metal tips to cordons and laces.
Metal tips come in a variety of shapes, colors and sizes. SCF also has tips for ropes.
For more customisation: engrave your tip, develop your own colors and choose your dimensions.
Other finishes
SCF hot- and cold-cuts its products, applies eyelets and offers other finishes such as lace banding.
The laces are bagged on a semi-automatic machine or by hand. The ring that sets the pair of laces can be customised.
To find out more about lace bagging and other finishes, please contact the sales department at commercial@scfl.fr to obtain the presentation catalogue.
packaging
SCF offers several types of packaging:
on reel of wire: 3 formats are available
in patties: made-to-measure format
ringed laces: in pairs of laces
loose: only for joinery products
packaging
SCF offers several types of packaging:
on reel of wire: 3 formats are available
in patties: made-to-measure format.
ringed laces: in pairs of laces
loose: only for joinery products